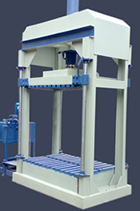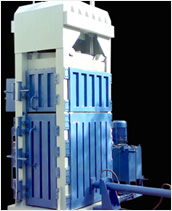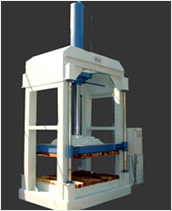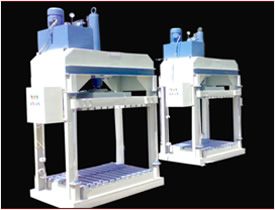 M.AJAY offers highly efficient single cylinder Hydraulic Baling Presses which are well known for its unique heavy duty design and construction. The state of the art operating system with highly efficient power pack and cylinders makes the machine a popular user friendly machine specially for Raffia Bags Exporters. M. AJAY offers Hydraulic Baling Press with pressing capacity of 20 T/ 35 T/ 40 T/ 100 T/ 125 T .
Salient Features: (MODEL FOR RAFFIA WOVEN BAGS):
ALL FOUR SIDES OPEN WITH FOUR GUIDE PILLARS FOR PERFECT ALIIGNMENT OF MOVING PLATEN.
EXTRA HEIGHT FROM BASE TO FIXED PLATEN FOR EASY OPERATION.
STROKE ADJUSTABLE BY LIMIT SWITCH.
SOLENOID OPERATED HYDRAULIC CURCUIT WITH CONTROL PANEL.
MODELS FOR WOVEN SACKS:-
Capacity

20 TONS

35 TONS.

40 TONS

PLATEN SIZE:

950 X 1250

950 X 1450

950 X 1450

No. of Cylinder

One

One

ONE

Electric Motor

3 HP X 1440 RPM

7.5 HP

10 HP

DAYLIGHT GAP

1100 MM

1200 MM

1200

CYLINDER SIZE:

125 X 80 X1000

160 X 90 X 1200

170 X 90 X 1200

Overall Dimension
( L x B x H )
1500 x 900 x 2600 mm
1800 x 1100 x 2800mm

1850 x 1100 x 2850 mm
Salient Features: (MODELS FOR JUMBO BAGS):
HEAVY DUTY CLOSED BODY CONSTRUCTION.
100 TONS/125 TONS PRESSING CAPACITIES.
THREE SIDES OPEN AND ONE SIDE CLOSED WITH DOORS OR TWO SIDES CLOSED AND TWO SIDES OPEN).
EXTRA PUSHER CYLINDER TO PUSH THE BALE OUT OF MACHINE.
SAFE AND SIMPLE HYDRAULIC CURCUIT WITH ALL NECESSARY SAFETY GADGETS.
IMPORTED "PARKER" MAKE SEALS FOR HYDRAULIC CYLINDER.
CONTROL PANEL.
MODELS FOR FIBC/JUMBO BAGS:-
Capacity

100 TONS OPEN

100 TONS CLOSED

125 TONS CLOSED

CONSTRUCTION

OPEN TYPE

THREE SIDES CLOSED/ONE OPEN

TWO SIDES CLOSED/TWO OPEN

PLATEN SIZE:

1200 X 1500

1000 X 1200

1000 X 1200

No. of Cylinder (BALING)

One

One

ONE

No. of Cylinder
(PUSHER)

One

One

One

Electric Motor

15 HP X 1440 RPM

15 HP X 1440

20 HP X 1440

DAYLIGHT GAP

1600 MM

 1600 MM

2000 MM

CYLINDER SIZE:
(BALING)

250 X 140 X 1500

250 X 140 X 1500

300 X 160 X 1800

CYLINDER SIZE:
(PUSHER)

–

100 X 65 X 1000

100 X 65 X 1000

Overall Dimension
( L x B x H )
1500 x 900 x 2600 mm
1800 x 1100 x 2800mm

1850 x 1100 x 2850 mm