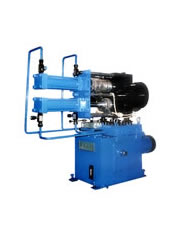 M.AJAY offer Hydraulic operated continuous screen changers specially designed for Plastic reprocess industry. These Screen changers are designed for changing contaminated screens without stopping the plants resulting in higher productivity and minimum waste generation. M.AJAY offer models suitable for 40 kgs/hr plants to 500 kgs/hr recyling plants.
Salient Features
Two step gas venting system to eliminate bubbling.
En-41B material for minimizing wear and ensuring long leak free life.
Hydraulic cylinder operated system.
Reduced pressure during material filtration which upgrades productivity.