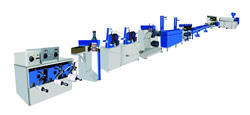 PRODUCT APPLICATIONS OF PP BOX STRAPPINGS
AIR PORTS.
AGRO/FOOD PRODUCT INDUSTRY.
AUTO,ENGG & STEEL INDUSTRY.
BANKS/SECURITY PRESS.
ELECTRONIC/ELECTRICAL INDUSTRY
GLASS & CREMIC INDUSTRY.
HOME APPLIANCES INDUSTRY.
LEATHER & SHOES INDUSTRY.
NEWSPAPER/PUBLISHERS.
PAPER&PAPER PRODUCTS INDUSTRY.
PLASTIC PROCESSING INDUSTRY.
SPORTS GOODS INDUSTRY.
TEXTILE INDUSTRY
TYRES/RUBBER PROCESSING INDUSTRY
WIRE/CABLE INDUSTRY.
SALIENT FEATURES:
Rugged HEAVY DUTY MODELS.
Models for Manual, Semi Auto Heat sealable and Fullyauto Heat seable Straps.
Strap Sizes From 6 mm to 19 mm.
Single,double, four straps dies available..
COLD START PREVENTOR FOR EXTRUDER.
Helical Gear Box with Inbuilt Thrust Bearing
Hydraulic operated knurling(embossing) system.
PLASMA NITRIDED SCREW & BARRELS.
Grooved Feed Barrels and Screws.
Higher out put. (Minimum 20 kgs/hr to 100 kgs/hr)
AC frequency drive for Extruder,Goddets , embossing unit.
Fully synchronized Plant with master control.
Individual printing station for double straps.
OPTIONAL
HIGH SPEED MIXTURE .
UNIVERSAL WINDER FOR DIFFERENT CORE LENGTHS AND DIAMETER
 SR NO.

 PLANT MODEL

 SCREW SIZE (MM)

SCREW L/D RATIO

FEED SECTION
TYPE

STRAP SIZE
(MM)

MAX PRODUCTION CAPACITY
(KGS PER HOUR)

TOTAL CONNECTED LOAD  (KW)

MAIN DRIVE
(HP)

POLYMER
TO BE PROCESSED

DIMENSION OF PLANT IN FEET

L

W

H


MANUAL STRAPPING PLANT

1

MAF/BS/50

50

26:1

SMOOTH FEED

9, 12,16 – SINGLE LINE

30

38

10

PP/HDPE

65

15

12

2

MAF/BS/65

65

26:1

SMOOTH FEED

9,12,16, 19

50

53

15

PP/HDPE

70

15

12

3

MAF/BS/90

90

26:1

SMOOTH FEED

9,12,16 – FOUR LINES
19 – TWO LINES

110

108

50

PP/HDPE

75

15

12


 SEMI HEAT SEALABLE STRAPPING PLANT

1

MAF/BS/50

50

28:1

SMOOTH FEED

9,12,16 – SINGLE LINE

35

57

10

PP/HDPE

80

15

12

2

MAF/BS/65

65

28:1

SMOOTH FEED

9,12 – TWO LINES
16, 19 – SINGEL LINE

55

74.2

20

PP/HDPE

90

15

12

3

MAF/BS/75

75

28:1

SMOOTH FEED

9,12, 16 – TWO LINES
19 – ONE LINE

90

116.25

30

PP/HDPE

100

15

12

 FOR FULLY AUTO STRAPPING PLANT

1

MAF/BS/50

50

30:1

SMOOTH FEED

9,12,16 – SINGLE LINE

35

51

10

PP

85

15

15

2

MAF/BS/65

65

30:1

SMOOTH FEED

9,12 – TWO LINE
16 – SINGLE LINE

60

82

20

PP

100

15

15

3

MAF/BS/75

75

30:1

SMOOTH FEED

9,12,16 – TWO LINE
19 – SINGLE LINE

75

131.25

25

PP

100

15

15