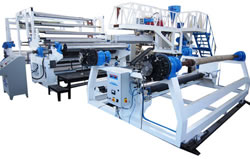 For coating thin layer of polyolefins (Mainly LDPE/PP) on substrates like Paper, Cotton Cloth, Woven fabrics, Jute fabric, Aluminum foil, BOPP film, Polyester film, etc. up to 3150mm Web width applications.
Salient Features
Helical gear box.
All AC frequency drive with synchronized system.
Two station surface winder with auto splicing arrangement.
Turret type Unwinder/ Rewinder and sandwich unwinder facility
Super finished/Matt finished laminator roller.
Special winder facilities that make 2 Meter fold from 4 Meter laminated cloth.
Hydraulic operated screen changer for easy operator friendly change over of screens.
Hydraulic operated Pressure roll system instead of Pneumatic system.
Specification
 Model
MAF/75
/LAMINATION
  MAF/90
/LAMINATION
MAF/100
/LAMINATION
MAF/110
/LAMINATION/
SCREW DIA
75
90
100
110
L/D
30
30
30
32
MAIN MOTOR(KW)
30 KW AC MOTOR
45 KW AC MOTOR
56 KW AC MOTOR
75 KW AC MOTOR
EXTRUDER OUTPUT (KG/HR)
120-130
180-210
230-250
325-350
EXTRUDER UP/DOWN
PROVIDED
PROVIDED
PROVIDED
PROVIDED
EXTRUDER FORWARD/REVERSE
PROVIDED
PROVIDED
PROVIDED
PROVIDED
SCREEN CHANGER
HYDRAULIC
HYDRAULIC
HYDRAULIC
HYDRAULIC
T' DIE (COAT HANGER TYPE)
  1350/1600 MM
  2000/2200 MM
2650 MM
3300/4000 MM
UNWINDER
TWO STATION  MECHANICAL UNWINDER
 TWO STATION  MECHANICAL UNWINDER
TWO STATION  MECHANICAL UNWINDER
TWO STATION  MECHANICAL UNWINDER
WEB ALLIGNER
PROVIDED
PROVIDED
PROVIDED
PROVIDED
LAMINATOR UNIT
CHILL ROLL (DIA X L)
500 X 1350/1600
500 X 2000/2200
500 x 2650
500 x 3300/4000
CHILL ROLL DRIVE(DC – KW)
3.7 KW
5.5 KW
7.5 KW
11 KW
PRESSURE ROLLER
HYDRAULIC OPERATED
HYDRAULIC OPERATED
HYDRAULIC OPERATED
HYDRAULIC OPERATED
WINDER
TWO STATION SURFACE WINDER WITH AUTO SPLICING ARRANGENENT
TWO STATION SURFACE WINDER WITH AUTO SPLICING ARRANGENENT
TWO STATION SURFACE WINDER WITH AUTO SPLICING ARRANGENENT
TWO STATION SURFACE WINDER WITH AUTO SPLICING ARRANGENENT
PREHEATING HOT PLATE
OPTIONAL
OPTIONAL
OPTIONAL
OPTIONAL
SECONDARY UNWINDER
PROVIDED
PROVIDED
PROVIDED
OPTIONAL
TURN BAR
PROVIDED
PROVIDED
PROVIDED
OPTIONAL
MANUAL EDGE TRIMMING
PROVIDED
PROVIDED
PROVIDED
PROVIDED