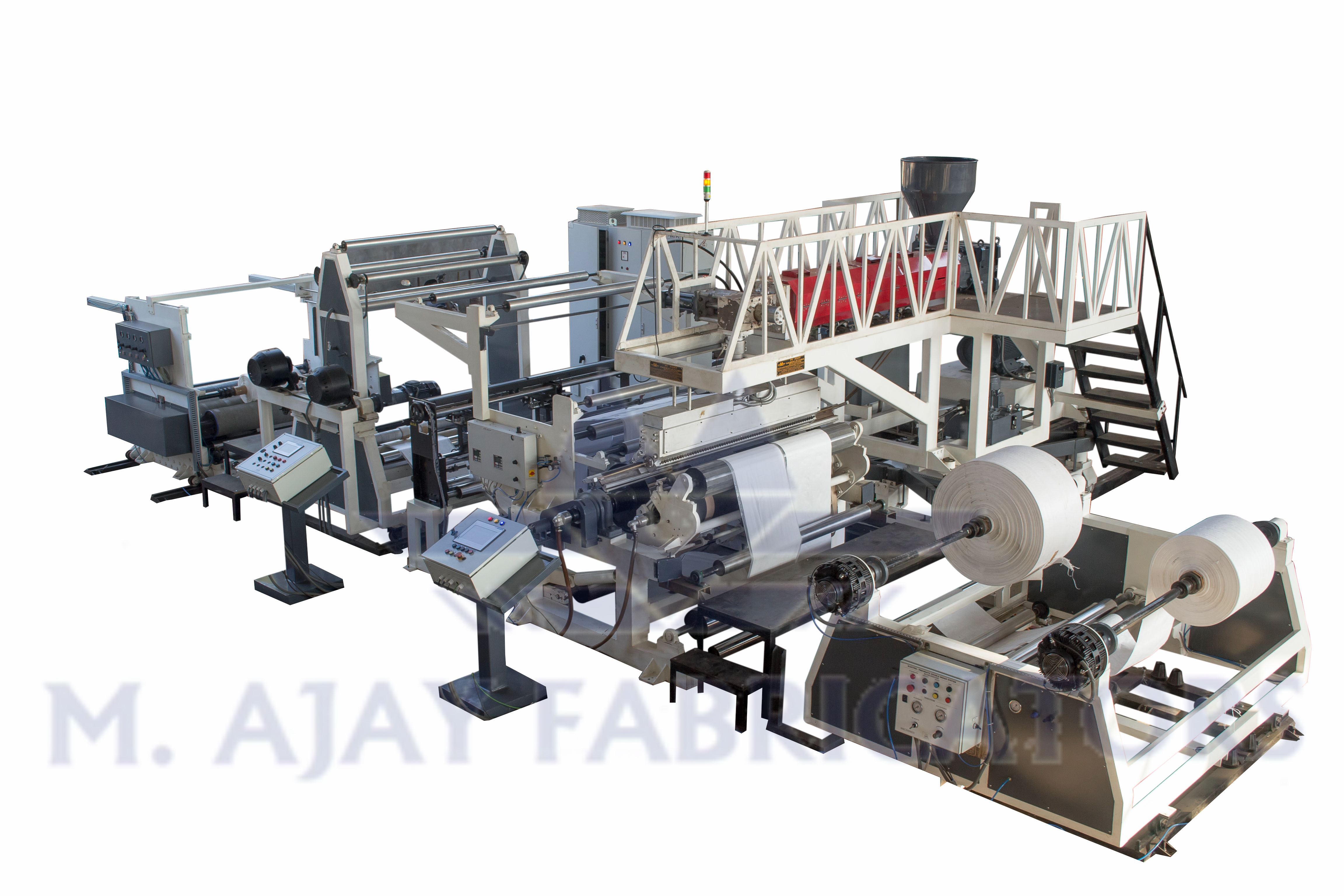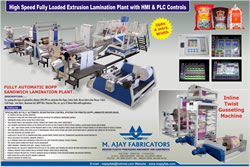 For coating thin layer of polyolefins (Mainly LDPE/PP) on substrates like Paper, Cotton Cloth, Woven fabrics, Non Woven Fabric, Craft paper, Jute fabrics, Aluminium foil, BOPP film, Polyester film, etc. up to 3150 mm Web width applications.
Features
Specialised in fully automatic registration control system for printed BOPP Laminated Woven Bags.
PLC CONTROLS FOR TOTAL MACHINE OPERATIONS.
SSR INSTEAD OF CONTACTORS WITH POWER SAVING FUNCTION FOR PRECISE PID CONTROLLED TEMPERATURE CONTROLS.
TEMPERATURE CONTROL DISPLAY ON HMI TOUCH SCREEN PANELS.
TOTAL MACHINE PROCESS AND PARAMETERS CONTROLS THROUGH HMI CONTROL PANEL.(TOUCH SCREEN PANELS)
FULLY AUTOMATIC REGISTRATION CONTROL OF THE PRINTED BOPP ON BOTH THE SIDE BY MEANS OF PRECISE TENSION CONTROLS, COLOUR MARKS SENSORS AND SOFTWARE.
"RE" – ITALY , MAKE TENSION CONTROL ELECTRO PNUEMATIC BRAKES AS WELL AS PRECISE MAGNETIC PARTICLE BRAKES FOR PERFECT TENSION CONTROL OF THE WEB BY MEANS OF LOADCELL FEEDBACK.
THIRD GENERATION CONTROL PANELS WITH FACILITY OF PROGRAMMABLE PROCESS RECIPE SETTINGS AND SAVING FOR DIFFERENT KIND OF LAMINATION JOBS CARRIED OUT ON THE MACHINE.
COLD START PREVENTOR FOR EXTRUDER SAFETY.
ALARM FACILITY FOR ANY TYPE OF COMMUNICATION ERROR, MACHINE ERRORS, HEATERS FUSED OUT, THERMOCOUPLE MALFUNCTION, MOTOR OVERLOAD ETC.
HELICAL GEAR BOXES FOR EXTRUDER, LAMINATOR, WINDER ETC.
ALL AC FREQUENCY DRIVES WITH SYNCRONISED SYSTEM WITH CLOSE LOOP SYSTEM WITH ENCODER/ LOADCELL FEEDBACK.
TWO STATION SURFACE WINDER WITH ONLINE SPLICING ARRANGEMENT.
TURRET UNWINDER / REWINDERS WITH AUTO / MANUAL SPLICING FACILITY.
SUPER FINISHED CHILL ROLLER OF LAMINATOR FOR BETTER GLOSS OF THE LAMINATE. MATT FINISHED CHILL ROLLER FOR PAPER APPLICATION ALSO AVAILABLE.
HYDRAULIC OPERATED SCREEN CHANGER FOR EASY OPERATOR FRIENDLY CHANGE OVER OF SCREEN PACKS.
HYDRAULIC OPERATED PRESSURE ROLL SYSTEM OF LAMINATOR INSTEAD OF PNUEMATIC SYSTEM FOR BETTER BONDING AND ADHESION PROPERTIES.
CENTRE GUIDED WEB ALLIGERS FOR BOPP SANDWICH LAMINATION.
SANDWICH UNWINDER ON GROUND LEVEL.
Specification
 Model
MAF/75
/LAMINATION
  MAF/90
/LAMINATION
MAF/100
/LAMINATION
MAF/110
/LAMINATION/
SCREW DIA
75
90
100
110
L/D
30
30
30
32
MAIN MOTOR(KW)
30 KW AC MOTOR
45 KW AC MOTOR
56 KW AC MOTOR
75 KW AC MOTOR
EXTRUDER OUTPUT (KG/HR)
120-130 Kgs
180-210 Kgs
230-250 Kgs
325-350 Kgs
EXTRUDER UP/DOWN
PROVIDED
PROVIDED
PROVIDED
PROVIDED
EXTRUDER FORWARD/REVERSE
PROVIDED
PROVIDED
PROVIDED
PROVIDED
SCREEN CHANGER
HYDRAULIC
HYDRAULIC
HYDRAULIC
HYDRAULIC
T' DIE (COAT HANGER TYPE)
  1350/1600 MM
  2000/2200 MM
2650 MM
3300/4000 MM
UNWINDER
TWO STATION  MECHANICAL UNWINDER
 TWO STATION  MECHANICAL UNWINDER
TWO STATION  MECHANICAL UNWINDER
TWO STATION  MECHANICAL UNWINDER
WEB ALLIGNER
PROVIDED
PROVIDED
PROVIDED
PROVIDED
LAMINATOR UNIT
CHILL ROLL (DIA X L)
500 X 1350/1600
500 X 2000/2200
500 x 2650
500 x 3300/4000
CHILL ROLL DRIVE(DC – KW)
3.7 KW
5.5 KW
7.5 KW
11 KW
PRESSURE ROLLER
HYDRAULIC OPERATED
HYDRAULIC OPERATED
HYDRAULIC OPERATED
HYDRAULIC OPERATED
WINDER
TWO STATION SURFACE WINDER WITH ONLINE SPLICING ARRANGMENT
TWO STATION SURFACE WINDER WITH ONLINE SPLICING ARRANGMENT
TWO STATION SURFACE WINDER WITH ONLINE SPLICING ARRANGMENT
TWO STATION SURFACE WINDER WITH ONLINE SPLICING ARRANGMENT
PREHEATING HOT PLATE
OPTIONAL
OPTIONAL
OPTIONAL
OPTIONAL
SECONDARY UNWINDER
PROVIDED
PROVIDED
OPTIONAL
OPTIONAL
TURN BAR
PROVIDED
PROVIDED
OPTIONAL
OPTIONAL
MANUAL EDGE TRIMMING
PROVIDED
PROVIDED
PROVIDED
PROVIDED
OPERATING SPEED
120 MTR/MIN
100 MTR/MIN
80 MTR/MIN
70 MTR/MIN